Study shows large increases of state licensed dog breeders and brokers in Illinois, Indiana, Ohio and Pennsylvania from 2019 through 2022.
Illinois, Indiana, Ohio and Pennsylvania were part of a study focusing on increased numbers of dog breeders and brokers. The states are known for large population of Amish and Mennonite communities as well as high concentrations of commercial dog breeders.
Stop Online Puppy Mills, a national animal advocacy organization, completed this study that measures the number of state licensed dog breeders and brokers, tracks locations, and uncovers fluctuations between license classifications and numbers of dogs.
Commercial dog breeders and brokers selling puppies are required to be licensed in the listed states. Three of the states have license classifications that are based on the number of dogs in each licensed facility or numbers of puppies sold.
Breeders and brokers move between classifications when adding or removing dogs to their kennels.
Direct correlations to large increases of new and established breeding operations is seen within Amish and Mennonite communities in all four states.
Pennsylvania saw an increase of 31% of new licensed dog
breeders and brokers. The data also shows large numbers of dogs being added to established breeding operations.
Breeders and brokers at the lowest level with 50 or fewer dogs in Pennsylvania went down by 18%, while breeders and brokers with 51-100 dogs expanded their kennels by 37%. The amount of dog breeders and brokers housing 151-250 dogs and 251-500 dogs doubled, while the largest breeders and brokers housing 500+ dogs shockingly increased 5-fold.
The state is broken down into Regions. The Regions of the state with the highest concentrations of new and existing dog breeders and brokers, are Regions 5, 6 and 7. These Regions are heavily populated by Amish and Mennonite communities and include Lancaster, Bucks, Berks, Chester, Adams, York, Lebanon counties and more.
In Ohio there was an overall increase of 23% of new licensed high volume dog breeders and brokers.
The Ohio data also shows sizable increases and large shifts in the amount of dogs in existing kennels.
Breeders and brokers selling 40-60 puppies decreased by 14%, while breeders and brokers selling 61 to 150 puppies had an increase of 36%.
The largest increase was seen in breeders and brokers selling 151-250 puppies. This group had an increase of 67%.
The breeders and brokers selling 251 to 350 puppies increased by 52%, while the largest operations selling 350 or more puppies increased by 10%.
The increases in new breeders and brokers as well as the expansions of existing kennels were centered in Holmes County.
Holmes County, Ohio is also home to the largest Amish community in Ohio and possibly the U.S.
The State of Indiana saw a 25% increase in new state licensed commercial dog breeders and brokers.
The majority of dog breeding operations in Indiana self report to have 100 or fewer dogs in their kennels.
Indiana has Amish and Mennonite communities with large concentrations of commercial dog breeders located both in the northern and southern parts of the state.
Lagrange County, in the northern part of the state, saw the highest concentration new breeders, while Daviess County, in the southern part of the state, came in second. Both counties are known for their large Amish and Mennonite populations and include the largest amounts of commercial dog breeding operations in the state.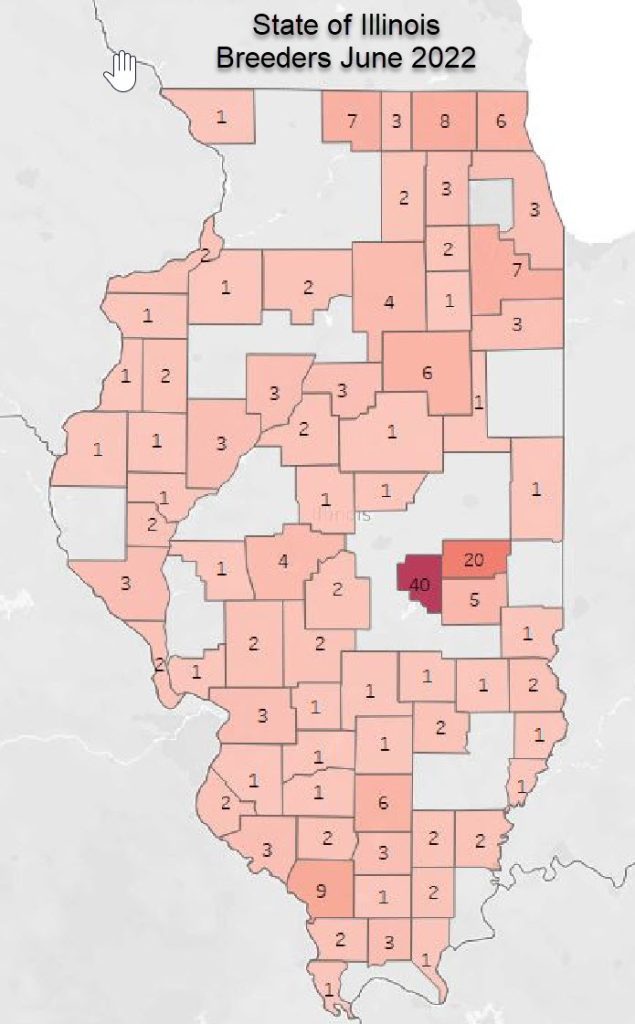 In the four fiscal years studied for Illinois, new dog breeder licensees increased by 56%.
Moultrie County, which includes Arthur, Illinois shows a 230% increase in new breeding operations.
Arthur, Illinois, is home to the largest and oldest Amish community in the state.
Stop Online Puppy Mills attributes the large increases in all 4 states to the easy access to puppies for sale online.
Puppy broker websites, social media accounts, and classified ad sites (that list hundreds of puppies for sale by anyone who calls themselves a breeder) add a smokescreen of legitimacy to online puppy sales and are taking a front seat to walk-in pet stores.
Ordering a puppy based on what it looks like in a photo is very risky. There is no way to know where the puppy comes from or the conditions in which it was born as well as its personality, mental or physical health, or temperament. All of which are very important to the overall health and well-being of these future family members.
We do not ever advise buying a puppy online and having it shipped or delivered even by "nanny."
High volume puppy sellers are not breeding to produce healthy puppies. These facilities are known to be very stressful on both the breeding dogs and puppies produced. Puppies bred in high volume commercial kennels commonly known as puppy mills are known to have anxiety, mental, physical, and hereditary issues that may not show up for weeks, months or years.
Any breeder can be a puppy mill. Visit the breeder in-person or you will never know the truth about where your puppy was born. Meet the puppy and meet the mother dog so you can see her mental and physical conditions.
If the breeder will not let you see where she and all the breeding dogs live, don't buy the puppy. You may likely be supporting puppy mill cruelty.
Adoption is always the best option. Shelters and rescues are overflowing with wonderful dogs and puppies of all breeds and mixes.
PUPPIES ARE ADORABLE, PUPPY MILLS ARE HORRIBLE™.